RE3 Remake New Trailer Reveals The NEMESIS!
RE3 Remake New Trailer Reveals The NEMESIS!
As a child, I grew up watching my older brother play both RESIDENT EVIL 2 and 3 on the PlayStation over the weekends. Why watch? Well, back then I didn't have the nerves to play them myself as they gave me nightmares. Today, the RESIDENT EVIL (RE) franchise has become one of my favourite video game series of all time.
RE has always been one of CAPCOM's most successful franchises, garnering very positive responses from fans for many of its entries. Till this day, classics like the first RE, RE2 and RE3 are still replayed by fans around the world even after debuting more than two decades ago.
Fast forwarding to this day, the evolution in video game graphics enabled the Japanese video game developer to modernized some of these classic games via remakes. Numerous aspects like the graphics, sounds, dialogues and gameplay concepts are updated to cater to contemporary audiences while still retaining the core story and elements of the originals. 
(Image Credit: mxdwn.com)
After last year's success of the RE2 Remake (2019), CAPCOM has gotten fans wanting more. Without a doubt, fans already knew that it's only a matter of time until RE3 also gets a remake. But no one expected it to be this soon! Over a month ago, they posted the first trailer of RESIDENT EVIL 3 REMAKE out of the blue.
Today, CAPCOM released the second trailer of the game, this time featuring one of the most intimidating enemies of the entire RE series, the Nemesis. Okay, who or what is a Nemesis? If you're a RE fans, you would know that this iconic monster is one of the most intimidating enemies in the classic RE3.
Let's start with an introduction of Mr. X first. If you've played the RE2 Remake before, we don't think Mr. X warrants an introduction anymore *cue X Gon' Give It To Ya*. But for those who don't, the T-00 Tyrant (dubbed as Mr. X) is a Bio Organic Weapon (BOW) monster created using the t-Virus by a pharmaceutical company call UMBRELLA.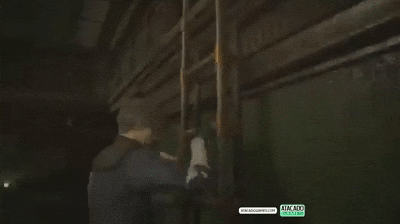 Sporting a trench coat and a fedora, this huge dude is one of the most anxiety provoking aspects of the RE2 Remake as he relentlessly pursues the player throughout different locations. Hearing those distinctive footsteps of this Tyrant approaching is enough to make a flatliner come back to life. Encountering him almost always lead players to go "NOPE!"
So, with that out of the way, let's talk about the Nemesis. The Nemesis-T Type is also a BOW created by UMBRELLA. Occasionally armed with a rocket launcher and being able to sprint towards the player, it is another formidable enemy that strikes fear in the hearts of many RE fans. He's also known to cause jump scares by appearing at moments you least expect him to.
Check out of the new stills of the Nemesis from the RE3 Remake:
(Image Credit: BIOHAZARD Declassified)
(Image Credit: BIOHAZARD Declassified)
(Image Credit: BIOHAZARD Declassified)
Nemesis is supposed to be the 'Mr. X' of the RE3 remake. As if a freaking rocket launcher isn't enough, he's also seen wielding a flamethrower in the trailer!!! While the Nemesis doesn't talk, he grunts, snarls and only speaks one word "S.T.A.R.S!" Keep reading to find out why!
(Image Credit: Shack News)
(Image Credit: Twinfinite)
About the game, RE3 Remake takes place before, during and after the events of the RE2 Remake. It follows the story of Jill Valentine, a member of the Raccoon City Police special force division, S.T.A.R.S. (short for Special Tactics and Rescue Service) who seeks to escape the zombie infested Raccoon City during the t-Virus outbreak. As members of S.T.A.R.S. were involved in an incident that led them to discover the truth about UMBRELLA's dirty work, the Nemesis is sent into town to pursue and exterminate all S.T.A.R.S members (hence why Nemesis only says S.T.A.R.S., because eliminating all members is his only objective). Along with other survivors, Jill must work together with them to fight their way out of the mayhem.
(Image Credit: Shack News)
RE3 Remake releases on 3rd of April 2020 and is available for pre-order now. If you're a RE fan, you wouldn't want to miss the Collector's Edition that comes with some amazing collectibles all packed in a box designed to look like a S.T.A.R.S. Item Box. Here's what you'll get:
An 11-inch Jill Valentine collectible figure
A collector's artbook
A Raccoon City double-sided map
A digital double album soundtrack.
But heads up, this Collector's Edition is slightly more costly than the Standard Edition and is only available for PlayStation 4. However, fans who pre-order the game before its release would receive the 'Classic Costume Pack' that allows you to swap the costumes of your characters into their classic RE3 attires.
(Image Credit: The Washington Post)
What do you think about this survival horror video game remake? Would you be playing RESIDENT EVIL 3 REMAKE when it releases in April 2020? Let us know in comment! Keep your eyes peeled for more exciting contents from Rilex-Lah!